McKesson Paragon Installation
Community Hospital Advisors is the nation's leading provider of consulting services focused exclusively on installing and optimizing McKesson's Paragon product suite of applications and the complimentary Horizon products. Our McKesson Paragon installation expertise includes:
Installation Project Management

Staffing Management
Schedule Control
Vendor Management

Conversion Management

Reference Masters / Finance / MPI

Complete Conversion Tool Set
Conversion Design
Legacy Data Coordination
Go Live Conversion Plan

McKesson Paragon Build Guidance

Best Practices based on multiple varied installs

Multi-corporate / Multi-facility experience
Large and Critical Access build experience
Star and Series Migration Experience

Test Protocols

Complete application test protocols
Full Integrated Test plan

Designed for full system stress testing – not limited to software confirmation. Work flow – Third Party Software - Interfaces

Training Curriculum

Starter Curriculum for all McKesson Paragon applications

Go Live Process

Complete 7 week Go Live plan designed to distribute work effort and reduce downtime and risk during the installation
Meaningful Use


Match your install schedule to the MU schedule for highest compensation benefit. CHA will guide your install to the version and functional mix that will ensure MU achievement with the lowest risk.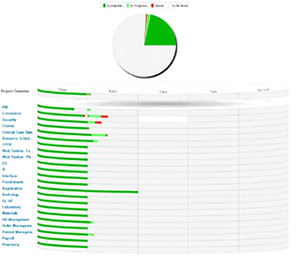 CHA Clients: