PeraHealth / PeraTrend Reporting Software

CHA has partnered with PeraHealth to introduced PeraTrend™: pioneering software that pulls existing data from Paragon and visualizes patient condition through a simple, dynamic graph. The software allows clinicians to quickly orient to the patient's current condition and trended over time. Validated by leading hospitals and health systems PeraTrend™ can:
Decrease patient risk and unnecessary hospital readmissions
Improve continuity of care
Improve patient flow and rapid-response team performance
Enhance overall quality outcomes for patients and
Enhance operational and financial performance for hospitals
Rothman Index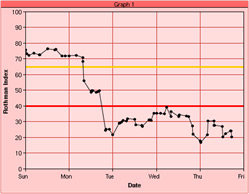 The Rothman Index has been validated against over 250,000 sets of patient records from leading US hospitals. Methods of validation include examining the correlations between patient Rothman Index scores and 24 hour mortality, 1 year mortality, 30 day hospital readmission rates, APACHE III initial estimate of mortality in the ICU, and discharge dispositions. A prospective, randomized controlled study performed in 2008 showed that the use of the Rothman Index could significantly increase the number of patients discharged to home. CHA has joined with PeraHealth as a Certified Solutions Partner to introduce hospitals using McKesson Paragon to PeraTrend™. CHA will also serve a key role in the strategic implementation and support of PeraTrend for Paragon customers.