CHA ProjectView™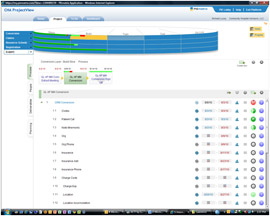 Paragon is a project of decisions; decisions that require input from multiple sources that may previously have had only tangential contact. The bridge for this communication gap is CHA ProjectView™.

CHA ProjectView™

is built on the PIEmatrix™ platform from a library of pre-built "Layers". One layer for each application. This "Layer" guides the application owner through each of the 5 phases of the project and automatically sequences their tasks to coordinate with the other 20 – 30 applications. Projects are customized for the hospital to match the application mix and synchronize other supporting projects.

CHA ProjectView™:
Combine all the McKesson projects into one unified plan.

Include all tasks beyond the software build needed for a successful implementation.

Give team members quick access to their "To Do" list.

Give team members easy access to update progress and flag issues.

Deliver access to web based vendor and industry resources.

Link to all necessary reference documentation.

Allow for shared document checkout and editing.

Give hospital executives a dynamic dashboard to track progress.
Visit Us at HIMSS 2013 Booth 4459
CHA ProjectView:
Your Project on Your Desktop!
Powered by PIEmatrix
See how it works!


Community Hospital Advisory mission: Deliver tools and guidance that will bring out the best in our client's most valuable resource – People.
Best Ideas
Best Communication
Best Collaboration
Because – People Solve Problems.